Two Parks Trail Run
ADDISON OAKS COUNTY PARK
BALD MOUNTAIN STATE PARK
30K and 15K
————————————————————————
 Starts at Addison Oaks Park, to Bald Mountain, returns to Addison Oaks Park. Approximately 9.3 mile loop, Loop consist of a mixture of single and wide track DIRT trails.
**1.5 miles of dirt road connects the 2 parks. ( .75 mile to Bald Mountain, .75 mile returning to Addison).
30K will do two loops.
TIME:
 All distances start at 8:30 am
DISTANCE:
30K – 2 loops (approx. 18.6 miles)
15K – 1 loop (approx. 9.3 miles)
LOCATION:
Addison Oaks County Park
1480 W. Romeo (32 mile) Rd.
Leonard, MI. 48367
248.693.2432
PARK FEE: included in your registration fee
Please print out your confirmation email and show at booth. If you don't have proof of registration, you will get charged $5 per vehicle.
COST – 30K
$65- through February 2023
$75 – through May 4, 2023
$90 ** Race Day ** cash/check only

COST – 15K
$55- through February 2023
$65- through May 4, 2023
$80 ** Race Day ** cash/check only

PACKET PICK UP
**Race Day Packet Pick Up Only =
7:15 am – 8:15 am … @ Start/Finish area
DOGS:
Due to Liability Insurance… Dogs are not allowed on the course.
**CUT OFF for 30K Must start second loop by… 11:00am
 5.5 hour time limit both distances

START/FINISH: 
Addison Oaks County Park @ Timber Ridge Pavilion
COURSE: The course is a mixture of single track (mountain bike dirt trails), wide track dirt trail and .75 mile sections of dirt roads
(connects Addison Oaks to Bald Mtn.)
** Addison Oaks Park will close the Mountain Bike Trails to the bikers day of Race.**
NOTE: Addison mountain bike trails are for bikers only. The Park is closing trails for us race day, there will be no preview of course.  Bald Mountain State is open to all… Bikers, Runners and Hikers.
MAP: = 9.3 mile Loop (approximate).
30K= 2 loops
15K= 1 loop
 Addison, Bald Mtn. Click Here to download map
** .75 mile dirt road to get to Bald Mountain
** .75 mile dirt road to return to Addison Park
DROP BAG : Start / Finish area
TIMING: Pull Tag….. please pin bib in front
**if we can't see your bib, you will not get a time! period
AID STATIONS: 3-4 miles apart
Addison Oaks back gate…twice (approx. 3mile and 8mile).
Start / Finish Area…30K only
Stocked with… Water, Gatorade,Sweet & Salty Snacks and Porta Potty.
PBJ & Turkey Sandwiches and electrolyte packs @ start of 2nd loop.
AWARDS: Top 5 Male/Female
Overall awards for 15K and 30K
WHAT YOU GET:
Finishers Medal
T-Shirt
Post Food- Knapp's donuts
                  -Pizza delivered @ 12:00pm
Well marked Course 🙂
2022 T-shirt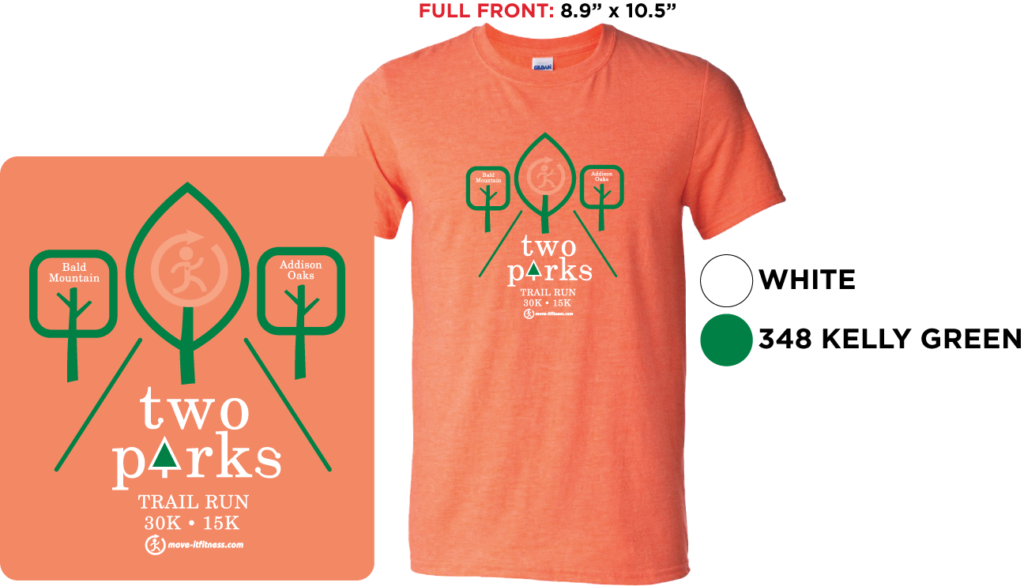 CAMPING is available …  inside Addison Oaks County Parks
please contact Addison Oak Park for information = 248) 693-2432
PICTURES OF TRAILS:
Addison Oaks
Bald Mountain